Endurotech
PROFESSIONAL & MILITARY DIVEWEAR
---
The Company
In 1998, the company ENDUROTECH Ltd. was founded by Abdon Ryan, a commercial diver with 12 years
professional experience, to fill the gap in the divewear market for truly durable drysuits and diving gloves.
To this end, the Endurotech range of diving gloves and drysuits have been developed following a four year
design and trial period. They are designed primarily for use in the military and professional fields of diving,
and are therefore created with durability in mind.




The Product
That which endows all Endurotech products with their superior longevity and durability is the inclusion of
Swiss made Keprotec®1, which incorporates the tough protection of Kevlar®2, brand fiber. This material,
laminated to high quality Neoprene together with unprecedented seam of stitch quality yield probably the
hardest wearing divewear currently on the market.




The Competition
Abrasion Testing carried out by an independent safety testing agency3 yielded the following results:
Neoprene Comparison
a) Endurotech Neoprone, using Keprotec®, reinforced with Kevlar® brand
fiber, showed between 5 and 10 times the abrasion resistance of conventional
nylon jersey lined Neoprene gloves when tested to destruction.4

Stitching and Seam Comparison
b) Endurotech seams and stitching may have 100 to 200 times the abrasion
resistance of conventional Neoprene gloves when tested to destruction.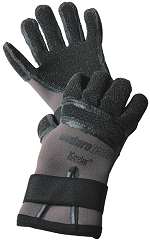 Triton Marine
2044 Bowling Green Drive
Sacramento CA 95825-0102
916.922.1135 fax: 630.839.1727
1 Keprotect® is a trademark of Schoeller Textil AG, Switzerland.
2 Kevlar® is a DuPont registered trademark.
3 Testing carried out by SATRA Safety Product Centre, England.
4 Tests carried out according to EN 388 using P60 abradant cloth - "Protective gloves against mechanical risks".
Data available on request.

Endurotech
Kinewry, Killawalla, Westport, Co. Mayo, Ireland.
Telephone +353 98 35401 fax: +353 98 35406
E-mail: abdon@endurotech.net